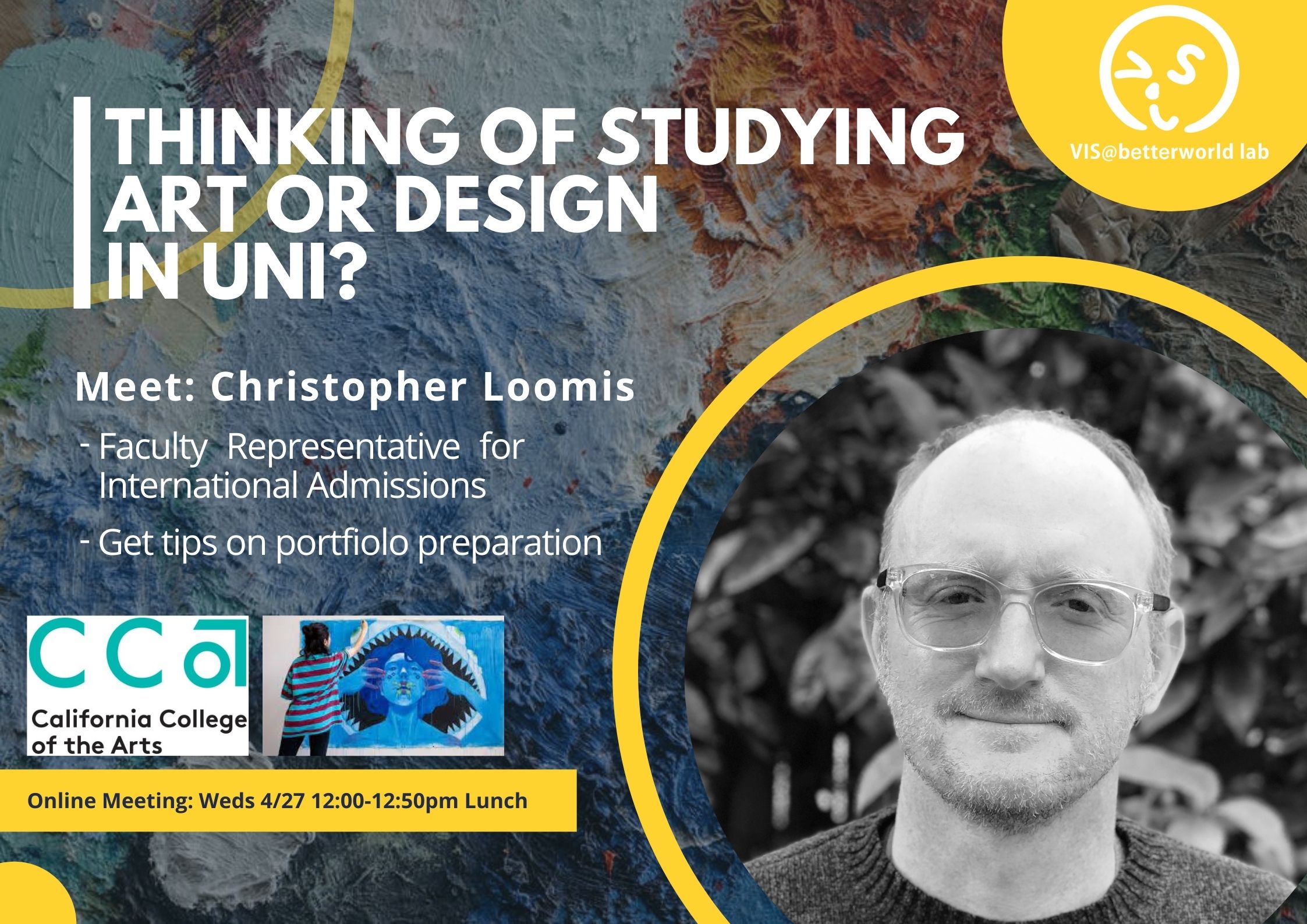 2022 Spring VIS x CCA Thinking of studying Art or Design in Uni? California College of the Arts
#加州藝術學院 #藝術與設計 #線上講座 #CCA
【2022 Spring VIS x CCA Thinking of studying Art or Design in Uni? California College of the Arts 加州藝術學院線上講座 】
Thinking of studying Art or Design in Uni?
VIS invite the faculty representative at CCA, Chris Loomis, to have an online seminar to talk about the university "California College of the Arts" and what studying at an arts school is like!
We'll also go over how to prepare the arts portfolio for college admissions. All students interested in studying art or design in uni are encouraged to come!
你對學習藝術或設計有濃厚的興趣嗎?
VIS特別邀請CCA的代表Chris Loomis來為同學們分享 #加州藝術大學。不僅會說明在 #藝術學校學習的樣子,也會討論 #如何為大學錄取準備藝術作品集。
歡迎有興趣學習藝術和設計的同學們一起參加!
US NEWS #美國設計院校排名中位於Top6,QS #世界大學藝術與設計專業排名Top20,#美國藝術設計院校畢業生薪資最高,VIS去年畢業的校友Letitia目前正就讀CCA喔!
#工業設計全美前三
#室內設計全美前五
#珠寶設計全美第二
#雕塑設計全美前五
#服飾設計全美前十
#平面設計全美前十
*Time: 2022/4/27 (WED) 12:00~12:50 pm
*Method: Zoom
Know more about Chris Loomis and his works, check the link below. 想多認識Chris和他的作品請進入下面網址
**This event only for the students who study in VIS.此活動僅限校內學生參加