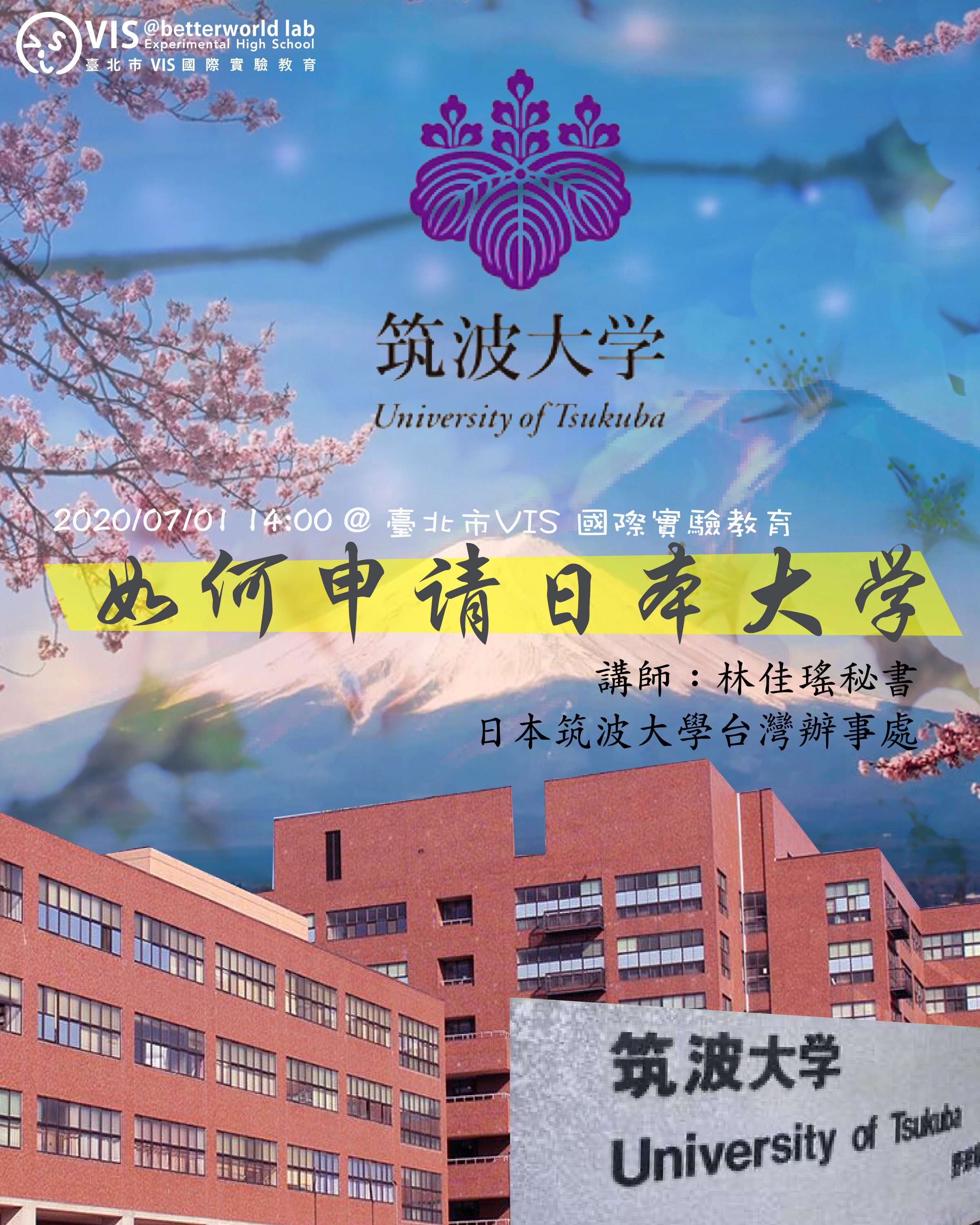 如何申請日本大學
『如何申請日本大學?』

講師:林佳瑤秘書/日本筑波大學台灣辦事處

Globalizing the Japanese education experience
Transforming the University of Tsukuba into a 21 century showpiece for multicultural education

In September 2014, the University of Tsukuba was selected as one of 13 Type A universities in the Japanese government's Top Global University Project, a high profile scheme designed to help the elite core of Japanese universities compete with the best institutions around the world.

The University of Tsukuba already had a very international perspective. This year, roughly 3000 international students are studying at the university, representing almost 13 per cent of its total student population ? the highest level of any Japanese comprehensive national university. During the course of the ten-year Top Global University Project, the university aims to push this global outlook even further, with plans to increase the number of overseas students to more than 5000.

The University of Tsukuba sees the Top Global University Project as an opportunity to evolve from being an institution that is already open to the world, to a truly trans-border university that has the capacity to help form the shape of a brighter future.

The wide-ranging program of cutting-edge undergraduate and postgraduate courses taught entirely in English that the University of Tsukuba has already developed, and is continuing to develop, is testament to the institution's global ambitions.

Other significant developments are also underway to strengthen links with a range of other universities around the world. One of these is Tsukuba's Campus-in-Campus initiative that will allow its students direct access to the facilities, staff and curricula at partner institutions throughout the world. Institutions that will be part of this program include the University of California Irvine, in the United States; the University of Bordeaux, in France; and the National Taiwan University.

The Campus-in-Campus initiative and other programs mean the University of Tsukuba now receives applications from more than 30 different countries for its English language programs.
Studying in Tsukuba is an overwhelmingly positive experience. Welcome to Tsukuba.